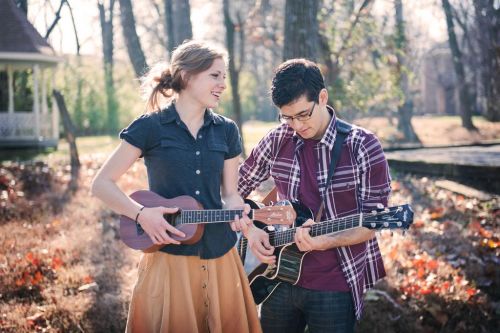 This is the first in a series of articles about artists who have been influenced by C.S.Lewis, the author of Narnia.
The Gray Havens is an indie pop duo made up of the young married couple, Dave and Licia Radford. Their songs tell stories and use vivid imagery and a combination of different styles of music.  
We asked "What impact has C.S.Lewis had on you and what impact has he had on your art?" and this was the answer:
C.S. Lewis has done more for me than any other fiction writer I have ever read.  His stories and worlds are packed with robust theology expressed through memorable characters and redemptive themes that find themselves fully expressed in the character Aslan.  He "steals past the watchful dragons" of the human heart and implants truth and beauty in a way that few others can claim.  I have never felt so inspired to write music than after having been to Narnia in one of the 7 stories.

 

One of our songs, "Silver," was inspired by a conversation held between Lewis and his friend J.R.R.Tolkien about myths.  Lewis claimed that myths were lies breathed through Silver, while Tolkien would respond that Christianity was the true myth.  The song is about a group of characters that grow up in a Silver country with silver songs, silver stories, and silver waves.  Once they hear a different song across the silver waves, different from the ones they know.  They set sail across the waves to discover the songs' nature, but once they do, the sails become so full from the song's power, the ship is taken up and brought right to its source.  Once confronted with the song, the silver on the ship melts, they are freed from their "silver chairs," and sing a chorus of grateful response as new men.  Imagery for this song was inspired by all the Narnia stories, especially Silver Chair and Voyage of the Dawn Treader.  We are currently finishing the sequel to this song, entitled "Inheritance (or Silver, pt.2)," which draws once again from themes Lewis would touch on.

In many ways, we are seeking to do with music what Lewis does with fiction.  We wish to present the gospel story in such a way that stirs the imagination and affects the heart with a kind of beauty that is interwoven with goodness and truth.  Hopefully our new album will do that even more-so than the last.

 

The album, which is currently being funded through Kickstarter, will be about 10 tracks. We're thinking of calling it "Fire and Stone."

 

 

For Narnia and the North!