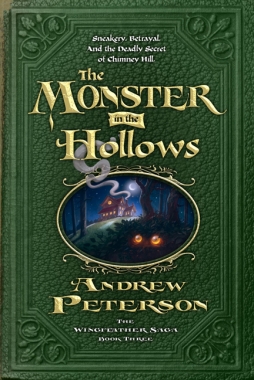 by Tenethia South
Yes, there are spoilers in here for both previous books . Not a lot, but some. (There's even a weird librarian in here.) Proceed at your own risk.
Guildmasters and ridgerunners, and Fangs, oh my! The Monster in the Hollows, written by Andrew Peterson, is the third book in The Wingfeather Saga. It's filled from cover to cover with honor, Throne Wardens (squee!), brotherly love, and loyalty… and possibly a little bit of romance.
The three Wingfeather children – Janner, Kalmar, and Leeli – have been running from Fangs for weeks, through woods filled with dangerous creatures, through the Ice Prairies, and they have faced many horrors. But now it seems their journey is at an end, as they reach their mother's homeland, the Green Hollows. Here, the Wingfeathers will be safe and able to lead a normal life again. Janner, Kalmar, and Leeli can start school and make friends.
Unfortunately, Kalmar's recently acquired fur makes it hard for him to fit in, as the people of the Hollows want nothing to do with a Grey Fang, or anyone who would bring one amongst them. Hatred has been working on the people for nine long years, and now they will do anything to have Kalmar arrested and killed – even if it means his mother, who has taken responsibility for his actions, will die too. And to make things in the Hollows even more complicated, there is a dangerous cloven from the Blackwood nearby, and people's animals are disappearing!
I know I always go on about Andrew Peterson's characters, but I just have to mention some of the new ones from this book! Peterson gives even the most minor characters memorable characteristics, and anyone who writes will appreciate the detail he gives each character. For instance, there's a librarian that pops up every time someone says her name, no matter if she's anywhere nearby or not. She's only in the book for a chapter or two, but she sticks in the reader's mind because of how distinct she is. The characters have very original and separate personalities, and it makes The Monster in the Hollows even more enjoyable.
The Warden and the Wolf King, the fourth and final book in The Wingfeather Saga is due to come out sometime this month. Keep an eye out for an article about that one! Meanwhile, you can buy book three on Amazon, at Barnes and Noble, or at the Rabbit Room.