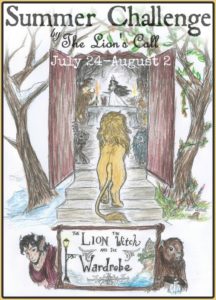 The Summer Challenge is an annual event here at the Lion's Call. It's a little like an online book club and a little like a collaborative art project. We pick one of the Chronicles of Narnia, read two chapters a day (leaving Sunday as a catch up or rest day), and share reflections about what we read. Your reflections can essentially be in any form of writing or visual art you can think of. This year we'll be reading The Lion the Witch and the Wardrobe.
It's hard to believe, but this is our seventh year doing the Summer Challenge. We'll finally be completing the entire chronicles. This doesn't mean it's the end (far from it!) but there is definitely something momentous about the occasion, and the Lion the Witch and the Wardrobe seems like a very fitting story to conclude the cycle with for some reason. If you've been sitting out for a year or two, or haven't yet attempted it, this is definitely a good year to join in.
This year the challenge is running from July 24-Aug 2 and we're going to have places to share reflections both on the forum and on facebook.